Dental Hygienist School Programs
Most dental hygienist school programs offer a minimum of two years of college education that combines classroom and the clinical coursework necessary for licensure. A formal education prepares dental hygienists to provide care to patients in such dental clinic settings as private dental offices, clinics and educational or health care institutions. Most programs provide students with laboratory, clinical, and classroom instruction in subjects such as anatomy, physiology, chemistry, microbiology, pharmacology, nutrition, radiography, histology, periodontology, pathology, dental materials, clinical dental hygiene, and social and behavioral sciences. Clinical education is provided in the form of supervised patient care experiences. Upon program completion, programs graduates receive either an certificate or degree, making them eligible for licensure. A bachelor or master degree is generally required for dental hygenists who want to pursuer research, teaching, or clinical practice in public or school health programs.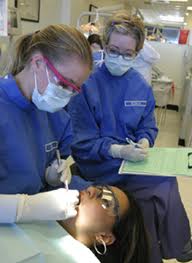 Dental hygienists are licensed by each state to provide dental hygiene care and patient education. To qualify for a license, almost all states require that candidates be graduates of accredited dental hygiene schools and pass the written exam, the National Board Dental Hygiene Examination, and clinical examinations. Upon receiving their license, a dental hygenist may use "R.D.H." after their names, signifying recognition by the state that they are a Registered Dental Hygienist.
[an error occurred while processing this directive]
All dental hygiene schools require some type of prerequisite courses, typically in the sciences such as chemistry or biology, in addition to other college level courses. Any courses taken outside of the U.S. will be evaluated to ensure that they are compatible with US courses. Ultimately, it is the decision of the dental hygiene program that will determine whether or not these courses are acceptable. Applicants looking to apply to a dental hygiene school must submit a program application, issued thru the Associated American Dental Schools Application Service (AADSAS).
The schools listed below offer accredited dental hygiene programs. Accredited programs ensure that students receive a formal education based on the latest dental procedures and techniques. School programs s are responsible for ensuring all standards which apply to dental hygienists are taught and that students emerge as competent dental hygienists.
Dental Hygienist Schools
| | |
| --- | --- |
| | $dgrid->bind(); ob_end_flush(); ?> |