Dental Schools for Dental Assistants
Accredited dental schools are the recommended way for individuals to train and become dental assistants. Studying in these programs provides a formal education based on the latest dental procedures and techniques, ensuring that all standards are taught to prospective students and they emerge as competent members of a team of dental professionals.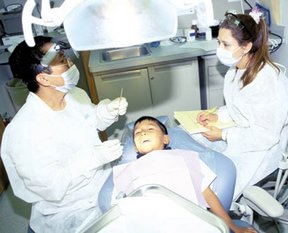 It takes a relatively short period of time to become a dental assistant. Although the majority of programs take nine to eleven months to complete, some dental assisting schools offer accelerated training, part-time education programs or training via distance education. Graduates of these programs usually receive certificates, becoming eligible for certification by passing the Certified Dental Assistant (CDE), an exam that evaluates their knowledge of the profession.
Although state regulations vary, a dental assisting career offers many challenges. It includes such specific tasks as assisting the dentist to provide care to patient in all dental specialties, including orthodontics, pediatrics, periodontics and oral surgery. They also sterilize, prepare and handle dental instruments and materials. Other tasks may include taking and developing dental x-rays, taking impressions of patients' teeth, performing office tasks that may require the use of a computer, and communicating with patients and suppliers (e.g., scheduling appointments, answering the telephone, billing and ordering supplies). Assistants are relied upon to help patients feel comfortable before, during and after dental treatment.
The types of practice settings available to dental assistants include: single, group and specialty practices including oral and maxillofacial surgery, orthodontics, endodontics, periodontics, prosthodontics, and pediatric dentistry. Other career opportunities include claims processors for insurance companies, teaching in vocational schools, community colleges and universities (although this may require an associate or bachelor degrees); and dental product sales representatives. Also, public health dentistry, found in schools and clinics, which focus on the prevention of dental problems within communities and hospital dental clinics, where dentists are treating bedridden patients, are other areas in high demand for dental assistants.
The following dental schools offer accredited dental assistant programs located in the United States and Canada:
Dental Assistant Programs - US and Canada
| | |
| --- | --- |
| | $dgrid->bind(); ob_end_flush(); ?> |