Dentist School Programs
Dentist school training develops individuals into socially conscious, civic-minded dental professionals who work with community leaders and other health professionals to promote oral health care. Dentistry has a distinguished history of leadership in improving world health. In addition to educating patients and the general public on oral health and disease prevention, dentists have taken on leadership roles in implementing such community-based preventive programs as water fluoridation, sealant and oral cancer screening programs.
All 50 States and the District of Columbia require dentists to be licensed. To qualify for a license in most States, candidates must graduate from an accredited dentist school, then pass written and practical examinations. Candidates may fulfill the written part of the State licensing requirements by passing the National Board Dental Examinations.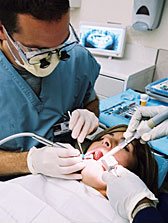 Dental school studies begin with classroom instruction and laboratory work in basic sciences, including anatomy, microbiology, biochemistry, and physiology. Beginning courses in clinical sciences, including laboratory techniques, also are provided at this time. During the last 2 years, students treat patients, usually in dental clinics, under the supervision of licensed dentists. Most dental schools award the degree of Doctor of Dental Surgery (DDS), while others award the equivalent degree, the Doctor of Dental Medicine (DMD). School graduates may decide to pursue post-doctoral studies. These programs are generally in the form of a General Practice Residency (GPR) or an Advanced Education in General Dentistry (AEGD) program. While optional, these programs help recent graduates build confidence and better proficiency in dental procedures.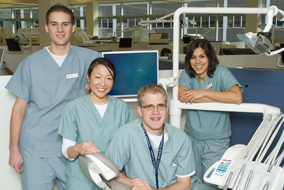 Below is a list of dental school programs in the US and Canada. Any questions you have related to the admission criteria and application processes should be directed to each school directly.
US and Canadian Dental Schools
| | |
| --- | --- |
| | $dgrid->bind(); ob_end_flush(); ?> |